Gloucester to Plymouth - Day 2 - Malmesbury to Bromham
Distance           40km

Max Elevation    175m
Gloucester to Plymouth - Malmesbury to Bromham Ride Profile
Ride Description

We woke to a warm sunny morning, but messed about a bit and got a bit of a late start. Cycled into Malmesbury, and picked up the Wiltshire Cycle Way that formed this part of our Gloucester to Plymouth route. It took us along easy unclassified roads heading south and at one point traveled along the Foss Way which is the old Roman road that runs from Bath to Lincoln and was a major trunk route for the Roman army. 
We navigated around the west and south side of Chippenham crossing over the M4 and down to the A4. As we quickly crossed over the A4 into the village of Corsham we spotted a cycle tourist coming towards us along the A4, but we had no time to stop as we were hurrying to cross the road before the lights changed. 
We headed into Corsham and stopped to decide our direction. As we did so the cyclist caught us up. He had been joined by another cyclist who was local and had cycled from Gloucester to Plymouth himself. He helped us find our way. It turned out that the tourer was American and traveling from Chippenham to Bath. We headed off in the direction of Lacock. Lacock is a lovely village largely preserved by the National Trust which owns the Lacock Abbey. We took time to look around the village and stop for coffee and cake at a local Cafe. 
We stopped to buy postcards at the Post office and as we prepared to leave, a gentleman cyclist of more senior years stopped to chat about our tour and about our route. Roger Peacy is a fit road cyclist and a member of Bristol Cycle Club. He advised against the last bit of the route that we had planned due to a very steep hill and was happy to cycle (slowly compared to his normal speed) with us to show us the way to our destination in the village of Bromham. What a gent! 
As we arrived Emma and Katie came out to meet us and welcomed us into Katie and Steve's home. Simon our elder son arrived later and Katie and Emma had prepared a succulent meal for us. It was great to see them all again, catch up on their lives and talk about our adventure.
On Saturday Simon and Emma drove us to Avebury. Whilst perhaps not so well known as its more famous cousin, Stone Henge, Avebury is the largest henge in the world.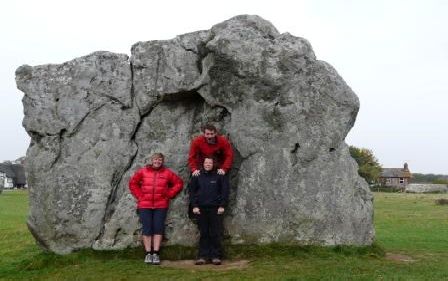 It is managed by the National Trust. It was a cold and rainy, but we braved the elements and walked around the stone circles.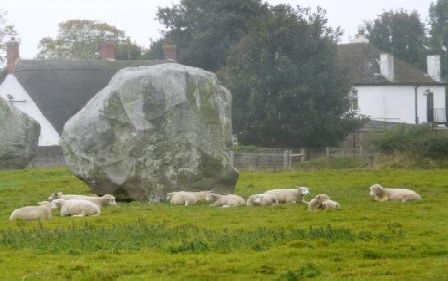 From there we travelled a short distance to Silsbury Hill, which is Britains largest man made hill and despite extensive scientific study over the years, no one is still any the wiser what it was actually for. Next we went to the Longbarrow .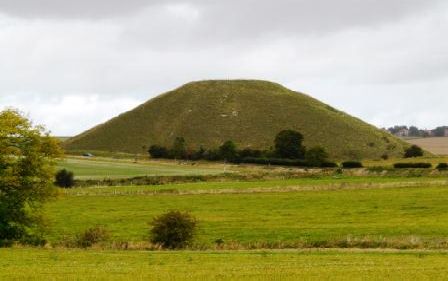 On Sunday we made a brief visit to Devizes and walked around the historic town. Unfortunately, it being Sunday, we couldn't visit the Wadworth Brewery.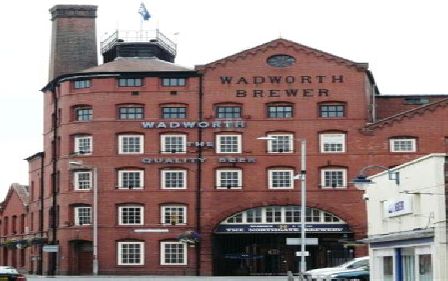 Sunday afternoon and Simon and Emma said goodbye, on their way back to London, (Karen had a little weep). 
That evening Steve's old friend, work colleague and boss over many years, Barry Webb and hiswife Julia drove up to take us out for a dinner treat. Great to see them both and talk about travelling around the World as they are also planning something similar, but in a little more style, on their ocean going cruiser!