Croatia Coast - Day 1 - Trieste to Piran

Distance             67km

Max Elevation      118m

Croatia Coast - Trieste to Piran Ride Profile

Ride Description

Today's journey would take us through three countries in one day. Starting in Italy, crossing to Slovenia and ending in with our die along the Croatia coast.

It was the usual problem finding a quiet route out of the city. In theory we just had to follow the coastline out of Trieste and around the small headland to the south, but between the two was a large industrial estate. We avoided the busy raised road which had mainly heavy lorries but then found ourselves on the slip road for the motorway. Avoiding this meant a long climb back into the Trieste suburbs on what appeared to be the old main road.
Returning to sea level we found the coast road which took us through a couple of slightly jaded old holiday resort towns before reaching the Slovenian border. This was the usual European, low-key affair with a big gateway but no-one at all interested in the passing traffic.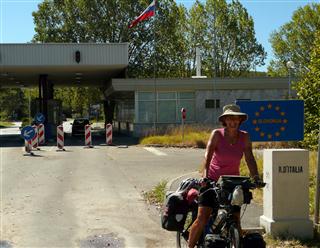 The next destination was Koper, Slovenia's only Mediterranean port. The signs were that it was doing very well with acres and acres of brand new Audis awaiting export. Just along the road was a new built massive retail park. We were dreading trying to find our way through it but there was a well signposted cycle route on a separate track that went all the way from there to the border of Croatia.
Following the coast we passed through a couple of Slovenian resorts, Isola and Portoroz before reaching the Croatian border. This was a much more formal affair with passport checks for both exit from Slovenia and entry to Croatia. After the border there is a long climb up into the hills that form the top of the Istrian peninsular. At the top for the second time that day we realised we had turned onto the motorway slip road and had to do a hasty retreat.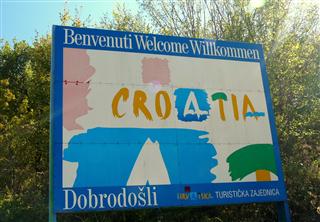 We camped on a small site next to the sea on the Cr3oatia coast This side of the Adriatic coast is rocky, in contrast to the lovely sands of the Italian coast, but the sea is amazingly clear and we couldn't wait to get in for a swim.
Croatia Coast - Piran - Day Off
The campsite had its own private beach with sunbeds to hire so we had a relaxing day in the sun and both got a little burnt. There was a five masted sailing boat anchored across from the campsite and we waited all day, hoping it would put up its sails. Eventually it set off into the sunset, a spectacular sight.