Lake Inle to Bagan Bicycle Ride - Day 3 - Kalaw to Meiktila

Distance           115km

Max Elevation    1370m

Lake Inle to Bagan Bicycle Ride: Kalaw to Meiktila Ride Profile
Ride Description

The official hotel breakfast start was 7am so we asked to have ours at 6.30am. It seemed every other guest had also asked for an early breakfast. By 7am we were on highway 4, with a short gentle ascent before the road started to drop into a deep valley.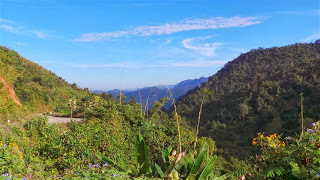 The view from the top of Highway 4
At the top of the hill they were building a new toll gate but it wasn't clear whether the toll road would be this one or a new build. The temperature at 1,300m was cool and pleasant and the views from the top across the small forest reserve were beautiful.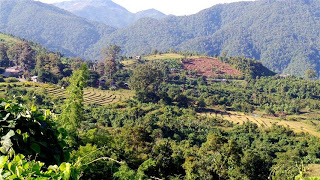 More highway 4 views
The road tumbles down the steep sided valley through many hairpins, with smooth tarmac and the traffic was light.  We were afraid that there would be many lorries carrying agricultural produce but there was mostly small buses and motorbikes.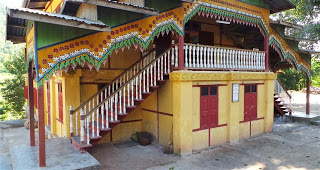 Monastery
Within 30 minutes Karen needed some bike maintenance to fix a squealing brake and not long after Steve had a puncture. These delays meant that Kjell and Adrea went on ahead and it was a while before we all met up again. As the road descended the temperature rose steadily and the sun was intense.  
The road now began a slow ascent up a small tributary valley. Teams of workers, mostly women were filling potholes with small stones by hand and making tar to surface them by boiling oil over wood fires. The men were climbing a rocky cliff with just ropes and no protective clothing while their children playing happily below them.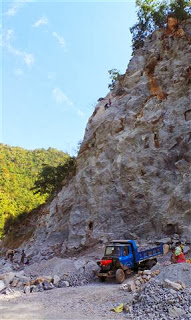 Highway 4 Roadworks
A  military pickup truck passed us with three young soldiers sitting in back. Pulling up ahead of us, and an older officer jumped out of the drivers seat and approached us. We thought we were in trouble. Instead he handed us a large bag of oranges to eat.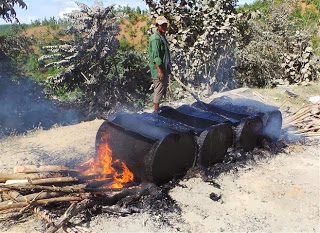 Making Tar
We decided to wait for Kjell and Andrea so we could share with them. So we headed to the shade of a roadside tree. Four women already sat there in the shade. They found us a blanket to sit on and we shared our oranges with them.
Kjell and Andrea  still hadn't arrived after twenty minutes so we assumed they were trying to find a lift. We continued to next town and stopped for lunch but they still they didn't catch up. Ten kilometres further we stopped again for a drink and a minivan with two bikes on the roof went past, stopped and reversed. It was another 45km to Meiktila and gone 3pm so we added our two bikes to the van and jumped into the air-con cab.
The Honey Hotel was on the side of the lake but a disappointingly scruffy place, which didn't exploit it's wonderful views. We sat on the little patio, which would have had good views over the water without the high wall, and asked for a beer. They had none, so one of the staff went off on his motorbike to buy a single bottle. When we wanted a refill he had to go again!  Just around the corner was a surprisingly modern Thai restaurant with very good food.