Rotorua - Day 4 - Rotata to Taupo

Distance                 65km

Max Elevation        576m


Rotorua - Rotata to Taupo Ride Profile

Ride Description

We were reluctant to leave this beautifully tranquil site and before we did so we said goodbye to the other folk (there were only four of them) on the site.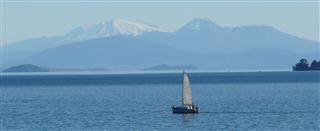 The first six kilometers were on gravel roads and mostly up hill. It was very hot and the sweat dripped off our chins. When we finally got back onto tarmac it was such a relief and from that point on, the riding was much easier. We turned south onto highway 5 and immediately took the turning to Ohaaki Marae which would take us across the Waikato Rover to take what we expected would be a quieter and more level route. Although we had only been on SH5 for a few hundred meters we were glad to turn off as it was very busy. The smooth tarmac track stopped after about 2km and turned into a rough gravel lane which we continued along for another 600m past what was obviously a Mauri Marae and the hot springs in the valley. The track ended abruptly due to a number of fir trees that had fallen across it.
Fortunately at this point a solitary mauri buy came along and he confirmed that we couldn't get through the way we had planned to go. He asked us if we had seen the Marae and if we would like to know a little more about it. When we said yes, he was overjoyed and started to tell us all about the history of his tribe and the Marae. He was 11th generation Mauri and was learning to recite his geneology. His knowledge was a little patchy in places, but it was very interesting nonetheless.

After a half hour's tour, we said our goodbyes and went back the way we had come onto SH5 and further along the road to the correct turning to Ohaaki.

The road passed the geothermal power station which gathered super heated steam from various "fumers" around the area and piped it back to the central generation station. We followed the Waikato valley which is dotted throughout its length with steam vents. It was a long rolling ride and was very hot. The "quiet" road turned out to be just as busy as SH5 due to lots of logging lorries and other heavy transport. The highlight of the day was seeing the snow covered peak of the volcano Mount Ruapehu at 2,800m at the far end of Lake Taupo.
Today was the hottest so far with temperatures about 30C, we had to avoid the melted tar on the roads. We ran out of water about 10k from Taupo. As we rode down the hill into town Karen screamed at Steve to stop at a garage top buy water. Refreshed we cycled the last 4km into town and a well earned Monteith's Original.

Our 'couchsurfing.com' accomodation was about 3km out of town, up a final hill on the road to Huka Falls. It was an almost new house in a nice quiet location. Raewyn, Kevin, Peter, Erin and Clair made us feel like part of the family and looked after us well.

That evening Raewyn and Clair took us down to the lake front and we ate fish and chips whilst we watched the sun go down.

The next day we had a day off riding and walked first to Huka Falls, about 3km further up the road. The wide and fast flowing Waikito river is funnelled into a narrow, rocky gorge...
.....and tumbles over a spectacular waterfall as it bursts out at the other end.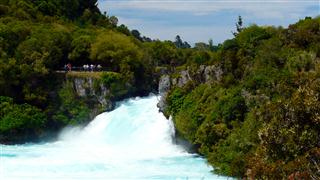 If you have plenty of money to spare you can ride on a jet boat up the river to the base of the waterfall. It you're a poor traveller like us you have to be content to watch the action from the bank.

Today we had arranged to meet Jesse and Olive James, good friends of Karen's parents who had emigrated to New Zealand in 1967. Despite both being in their 80's they were amazingly spritely and took us out for a lovely lunch while we caught up on all the events of the last 43 years.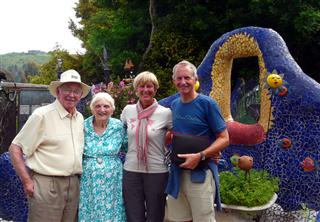 It was also time for some housekeeping. Namely a haircut for each of us, (NZ$12 for Steve NZ$45 for Karen) and a visit to various bike shops to look into replacing our tyres. Not surprisingly, none of the shops stocked decent touring tyres, so in the end we decided to risk ours for a bit longer and ordered replacement Schwalbe Marathon Extreme from Wiggle in the UK, who deliver to New Zealand for free, We saved over NZ$100 buying them from the UK as opposed to buying through a local bike shop. They will be delivered to our accommodation in Golden Bay that we have pre-booked for Christmas. Fingers crossed we have no major problems until then. We took smoked salmon, cream cheese, biscuits and sparkling wine back to supplement the dinner that Raewyn was cooking for all of us.