Albania to Greece - Day 3 - Sveti Stefan to Shkroder

Distance           81km

Max Elevation    231m


Albania to Greece - Sveti Stefan to Shkroder Ride Profile

Ride Description

Our Albania to Greece ride continued along the coast, climbing and descending at regular intervals and still very busy. This part was less developed, with attractive  pine clad slopes and small coves. After 20km we came into the port town of Bar where we at last escaped from the busy road, turning off to the border crossing at Sukobin.
This narrow, poorly surfaced road climbed steadily into the mountains, passing through many small, poor, villages. At the top of the climb was a short descent and then a long flat ride across a plateau. The rock formations at the side of the valley reminded us of the Stone Forest in China.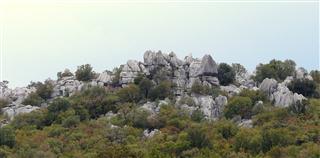 There was a most unexpected picnic area at the roadside, complete with water well, tables and chairs where we had lunch. It had been Karen's turn to buy at the supermarket. There were bread rolls which were too dry to eat, cheese spread which was inedible and nectarines that were too mushy. Luckily we had kit-kats and fig biscuits.

Just before the border, in the middle of nowhere, there was a huge new supermarket with a cafe so we didn't starve. The border crossing into Albania was uneventful. There was a long queue of cars but one of the border officials waved us through to the pedestrian gate and straight through to Albania.

The northern area seemed to be one of the poorest, with subsistence level farming, little mechanisation and lots of unused land. There was evidence of previous land management with terraced, now unused, hillsides and irrigation channels no longer functioning.  Local transport is mainly old bikes or ponies and carts. We cycled towards Shkoder behind two young men on delapidated bikes carrying sacks full of old metal for re-cycling. On the way into the city was the first roundabout and we were unsure of the road rules. We never did sort out if it was priority to traffic on the roundabout or joining it but everyone just did their own thing.
The road into the city centre is lined with low rise concrete apartment blocks. Hidden behind them we found an amazing little hotel in a renovated 16th century building. We just had to stay there whatever the cost. The owner spoke very good english and was a keen cyclist.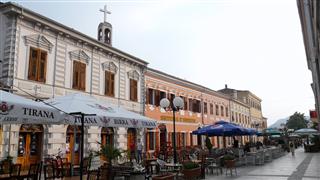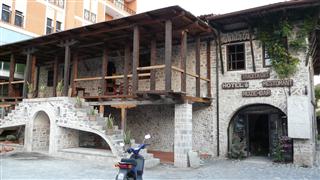 Later we walked into the town centre which was an amazing contrast to the rest of the city, a long street of traditional buildings all fully renovated lined with restaurants and bars. There was even a Tourist Information office but it had closed.