Singapore to Kuantan - Day 1 - Singapore to Desaru
Distance           55.8km

Max Elevation    55m

Singapore to Kuantan - Singapore to Desaru Ride Profile
Ride Description

Today, the first day of our Singapore to Kuantan ride was a day of changing plans: 
Singapore to Kuantan Plan A: There is only one road route for cyclists out of the city and that is over the busy bridge north to Johor Bahru. The alternative suggested by Lonely Planet is the ferry from Changi, in the north-east of the Island, to the south eastern Malaysia peninsular. The problem is there are two ferry points and two different ferries, one for cars and one for passengers. We would cycle from Cheun's house to the car ferry and then up to Kota Tinggi.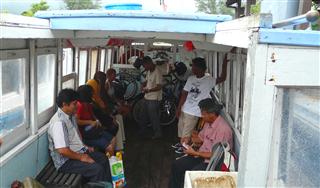 The car ferry runs four trips per day 7.30, 10.00, 17.00 and 19.30, the passenger ferry only runs once there are twelve passengers to travel. The only suitable ferry was the 10.00 but with a 40km ride to the port, the first half being straight through the City centre where we were likely to get lost we would be pushed for time so needed a new plan. 
Singapore to Kuantan Plan B: We decided to get a taxi to East Park and then pick up the cycle track which runs all the way along the coast, around the airport and into Changi. The taxi arrived promptly and we were almost at the park when the heavens opened and it poured in typical Singapore style - torrential. Time for... 
Singapore to Kuantan Plan C: The taxi dropped us at McDonald's, about 2km further along east park so that we could shelter from the rain and have breakfast while waiting for it to stop. After 90 minutes and no let up it was obvious we weren't going to get on that ferry. 
Singapore to Kuantan Plan D: Once the rain abated we rode up to the Changi Ferry Terminal to get the passenger ferry instead. Arriving there it was obvious that this was in fact the car ferry terminal. It was all closed up and no-body around to ask. Then we spotted a man in the ticket booth eating sandwiches. He must have been the cleaner because he seemed very confused about when the next ferry was suggesting three different times before settling on 15.20. As it was only 10.30 we moved to... 
Singapore to Kuantan Plan E: We continued up the cycle path to the other ferry port at Changi Point. This was definitely the passenger ferry. In the ticket hall we had to give our passports to the clerk and then wait until he had 12 passports before the ferry would leave. After waiting about 30 mins there were still only 10 passengers so we all agreed to each pay an extra S$2 fare to make up the 12 passenger total. We still weren't quite sure where the ferry went to but that just made it more exciting.
After 90 mins it docked at a small jetty right on the south-west tip if the Malaysian peninsular, about 50km further south than the car-ferry port. This meant a ride of about 80kms to get to Kota Tinggi and it was already 2pm, time for... 
Singapore to Kuantan Plan F: There is a resort town called Desaru on the east coast about 35kms south of Kota Tinggi. Karen had spent some time checking out prices and reviews of the main hotels and they were all very expensive and got very poor reviews. The ride was mostly flat, through palm oil plantations and it was cloudy so pleasantly cool. We passed a couple of groups of weekend cyclists returning to Singapore and they waved and shouted to us enthusiastically. 
Desaru was off our main Singapore to Kuantan ride and was place that wasn't a place - just five big self-contained resorts along the beach. After cycling past all of them we went into two asked prices. The first was quite shabby but the second had recently had a re-furb and was smart with clean rooms and helpful staff. At 60 pounds per night it was relatively expensive but we had a huge room with a settee and a small patio overlooking the pool for not much more than a good camp site in Australia. It was crowded with local tourists, about half Chinese and the rest Malaysian Muslims. Despite most places being dry, we could get a beer here.