Shikoku-Bicycle-Ride: Day 1 - Sukomo to Shimanto

Distance           85km

Max Elevation    160m
Shikoku-Bicycle-Ride: Day 1 - Sukomo to Shimanto  Ride Profile
Ride Description

Today we planned to ride south, along the coast to Tosashimizu, stay there overnight and then ride around Cape Azihuri, the western of Kyushu's two capes, the next day.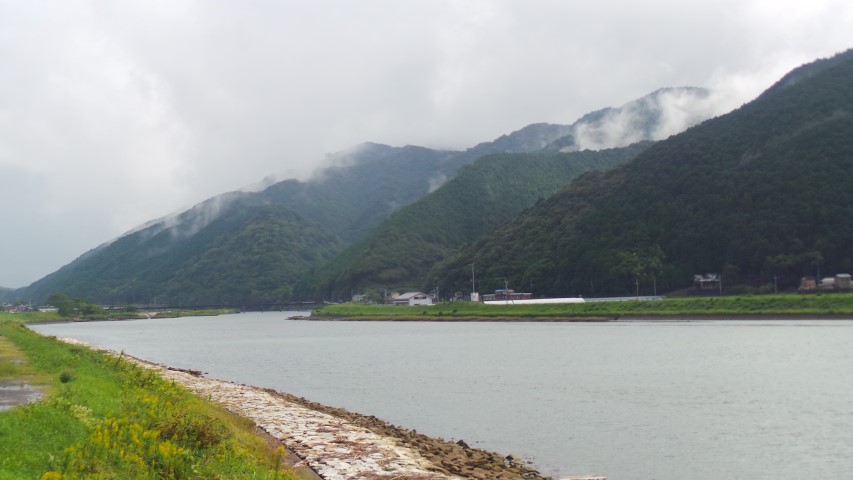 Sukomo River
Taking the 321 out of Sukumo we went past a couple of little harbours with scruffy village. A 'coffee' sign at the side of the road persuaded us to stop. The place looked fine from the outside.
Inside there was an old lady serving and a couple of locals smoking. The walls and ceiling were coated by a thick layer of black dirt as were the venetian blinds and chairs. On the window ledges were vases that at least had fresh flowers in them but the vases and water in them were revolting. We tried not to touch anything and drank the coffee quickly.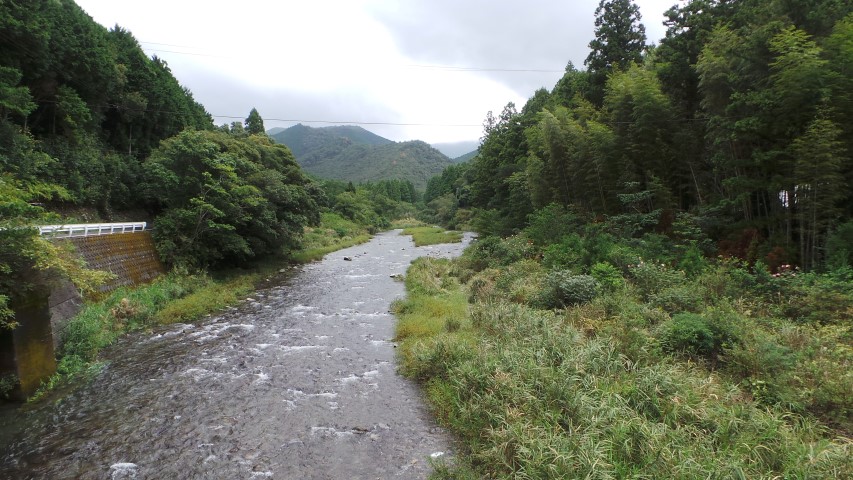 River Valley on Highway 28
From there we  turned off onto the quieter 28 which climbs a small river valley and descends another to rejoin the 321 at the south coast. It was a pretty, peaceful ride along the valley, but as with most river valleys in Japan, most of the banks are concreted and the river flow controlled with concrete barrages.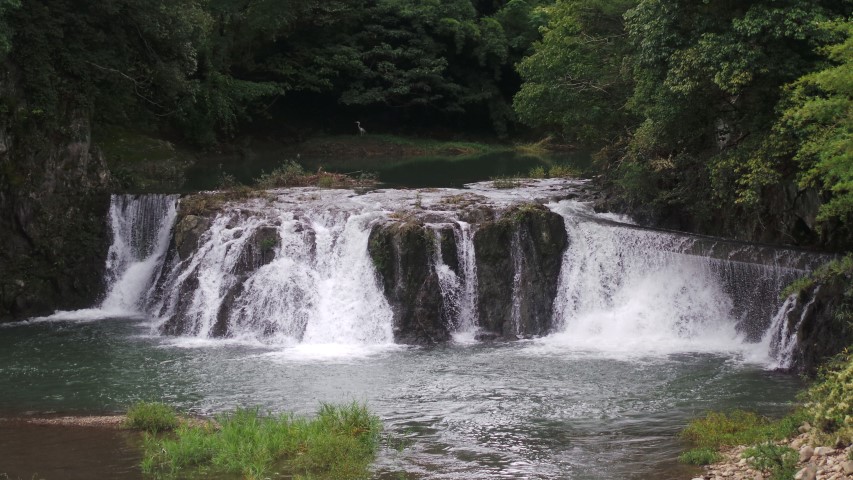 The south coast was rugged and rocky and we arrived in Tosashimizu about 2.30pm. Searching around the town there seemed to be few restaurants and only a couple of quite scruffy hotels which were not open until 4pm.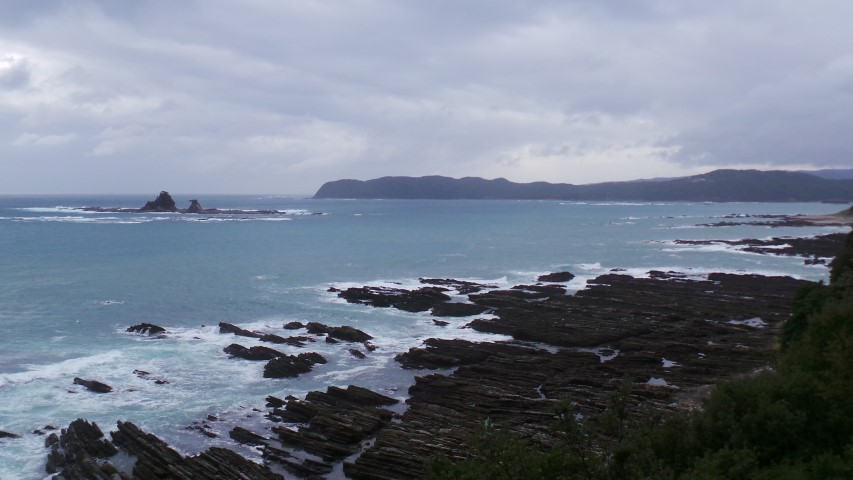 Shikoku South Coast
We didn't want to wait around and then find the rooms unsuitable so decided to carry on north on the 321.
There was a place about 6km up this road, called Kayu Inn, that we had read about in Lonely Planet and we hoped we could stay there. We knew it was quite pricey and was an ecofriendly, organic food place that offered evening meals as well as breakfast. It had a board up advertising rooms available so we stopped.
The owner came out and told us that their policy is not to rent rooms unless they are booked in advance. He asked us if we had read the hotel's 'philosophy' on-line which we obviously had not. He admitted that he had a room available but then looked at the two of us on bikes and pointed out, at least twice, that it was a no-smoking establishment. Then he came up with the deal breaker. Because their meals are organic they needed 24 hours notice to provide an evening meal and the nearest alternative place to eat was 5km away and closed at 5pm. 
"Never mind" we said, "we'll just cycle another 25km to Shimanto and find a place that wants our custom". As it would be dark by 5.30pm we now had to pedal as fast as possible on to Shimanto, stopping to put the lights on for the last 5km. The first three hotels there  got the thumbs down also but number four was fine, had wifi and also a really good restaurant.
We ate our evening meal while watching the performance of the four staff in the restaurant. There were two chefs, a waitress and a kitchen assistant. They worked together perfectly as a team, needing no verbal communication. Forget the ' Masterchef' scenario with everyone shouting at each other for 'service', these guys produced and served dish after dish of sumptuous food without wasting an ounce of energy talking about it.