Waking up to rain is always depressing, but at least the gazebo had kept most of it off the tent. Setting off, we expected the rain would stop once the tide changed but it just go worse and continued for most of the day.
At 11.30am it  even heavier so we stopped at a cafe to shelter, hoping to get an early lunch. The waitress at first told us it was too early, but then took pity on the two drowned rats dripping water across the floor and offered to cook us some salmon with potato salad. As we finished our meal, two more cyclist came in, just as wet and depressed. They had cycled from Ushuaia in the south, heading for Puerto Montt and they both looked gaunt and completely exhausted!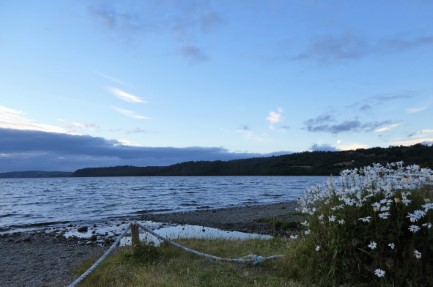 Lake Nitre
From here we had to catch a ferry back to the Chile mainland with the tickets we had previously purchased in Puerto Montt. The ferry was scheduled to depart at 2am the next morning, so we arranged to leave our bags at the hotel for the day.
At the ferry office we were told that it was delayed, but would leave at 5. We assumed he meant 5am so decided to spent the evening at a local tapas bar which stayed open until 3am. With nothing much else to do in this town after dark we got there at 7.30pm. So there was just 5 hours to fill with eating and drinking!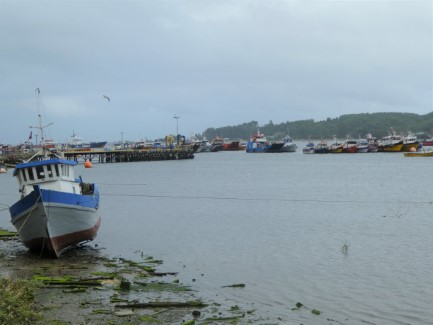 Quellon boats
Making our way to the ferry pier, it was obvious that there was no ferry due, so it dawned on us that in fact it wouldn't be departing until 5pm. Luckily there was a small hotel/bar place across the road with lights still on so we got a room for the rest of the night. The ferry arrived at 5.45pm. After a lengthy unloading and even longer loading it was 11pm when we finally departed.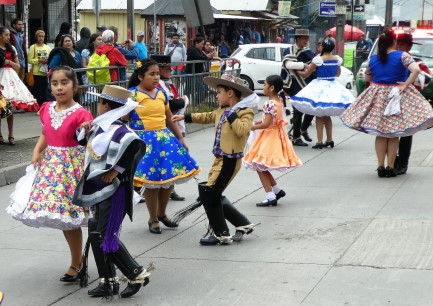 Dancing in the street
Following lunch we continued in the rain, up a couple of steep climbs and stopped to watch a farmer and his wife bringing wood up a hill on a wooden sledge, pulled by two oxen. It was raining so hard it was too wet to get the camera out. We arrived at Quellon, soaking wet and cold and saw a sign on a lamp-post to 'Ciclo Nomade Cafe'.
The owner saw us arrive and rushed out to show us where we could put the bikes under cover before ushering us into a lovely, warm, modern cafe. He then fed us sandwiches, cake, beer and coffee until we were revived enough to continue into Quellon and find a hotel, needless to say, there was no way we were going to camp.
Eventually we found the Hostal El Parque which had great warm rooms and space to dry our gear.
Traffic light unicyclist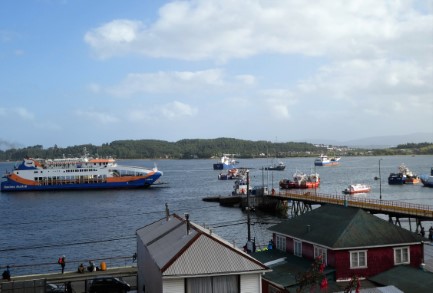 Ferry arriving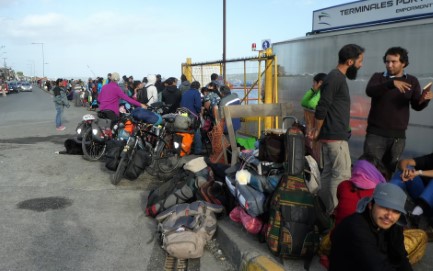 Ferry Queue