Central Visayas - Day 3 - The Camotes Islands

Ride Description

Our destination today was the Camotes Islands which are part of the Central Visayas and part of Cebu province.

Breakfast was again a lonely affair but at least we got fast service. The ferry was a ro-ro, departing at a very civilised 8.30 am, for the two hour journey to Consueles on the island of Pacijan. Our plan was to ride around this first Camotes island today, stay for the night  at Santiago then cycle over the causeway to the next island, Poro. From here, the Rough Guide and the ferry web site assured us, we could get a fast ferry into Cebu City. We needed to spend a day in Cebu to extend our visas.

The small scale map that we had showed the road following the coast but in fact it was quite a distance inland, mainly through coconut plantations and fairly flat countryside. As we passed through Santiago we booked into a small guest house at the edge of a beautiful pale sand bay, meaning we could continue without the panniers. The south-east coast was the most enjoyable part with plenty of shade and several short steep hills. There were a few sections of unsurfaced road but practically no traffic and ocean views.
Coming to the north of the island we decided to find a nice beach.Turning off the road at a signpost for a beach, we followed a track for several kilometers. The beach was at a closed down resort and the whole place had a massive fence and a padlocked gate. Instead we returned to Santiago and had a swim there.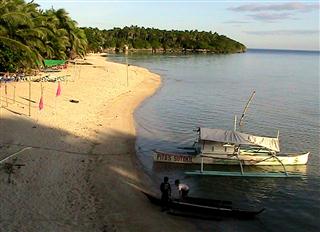 In the evening we strolled to a little seafood restaurant with tables on the beach just below our accommodation had some fantastic  sea-food. We asked the resort owner about the times of the ferry from Poro to Cebu and were told that it only operates in high season. So there was no option but to get the ferry back to Danao and ride to Cebu City on the national road.