Bicycle Taiwan East Coast - Day 6 - Xincheng to Cliff House

Distance           74 km

Max Elevation    220 m

Bicycle Taiwan East Coast - Xincheng to Cliff House Ride Profile
Ride Description

Today we managed to avoid riding on the highway (now 9) for most of the morning. First on a local road out of Xincheng. After just a couple of km on the main road, there was a bike way signposted to the  left . It followed  NR913, a quiet, local tree lined road running parallel to the coast. It went through the middle of one of the largest Chinese graveyards we have seen, a vast village of traditional little houses, all with gated, walled gardens.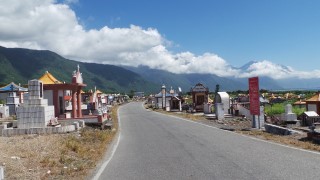 Cemetry Town
The NR 913 goes into the centre of Hualien City but we turned off onto another cycle path along the seafront. Most of it appeared to be only just completed and it was a lovely traffic free route past the airport and along the prom then turning in through a park and crossing several bridges before coming into another wide sweeping bay.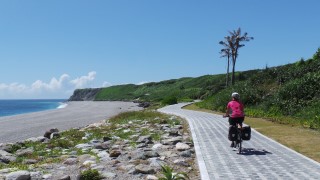 What a bicycle way should look like
At the end of the beach it turned inland again and started to climb up a zig-zag path. After a couple of turns we came to a short flight of steps with a sloping ramp to push the bikes up. This was quite difficult with a loaded bike. Round the next corner were five more flights of steps. Seemed a strange way to design a bike path. 
We reached the penultimate flight, sweating profusely and were confronted by four soldiers dressed in jungle camouflage and none of them old enough, surely, to have left school. They signalled to us to go back as the track was closed. Steve was sent to negotiate as there was no way we were going back down those steps and about 2km round the bay to get back to the road.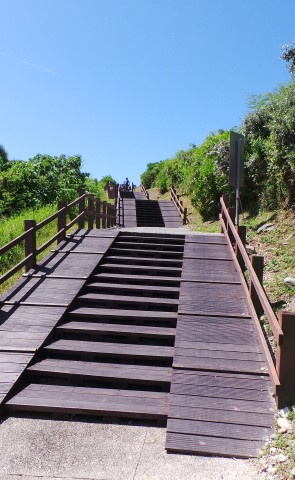 Bike way with steps?
Eventually the most senior one rescinded and let us through. The youngest recruit had been stationed further down the road and had fastened  a rope across the road, between two trees. He had tied it so securely it took several minutes for him to undo the knots so we could go through. 
By now we were at the port, on the south side of Hualien and continued along Highway 11. Lunch was another delicious fresh seafood feast with lobster and clams. After the food the road seemed longer and hotter than ever, with a strong head wind. There were several sections of cycle track on the coast side, but there was not much traffic and more shade from the roadside trees on the hard shoulder.
Ahead was a large rocky headland and we thought we were going to have a steep climb. Instead the road climbed very gradually through three long tunnels, in total about 3km, broken by two very short sections of daylight. They were well lit with a clearly marked cycle lane and as the traffic was light it wasn't quite as daunting as some of the shorter tunnels.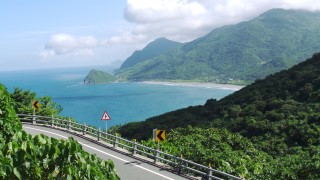 Descent towards Fengbin
Emerging from the darkness, it was amazing to see how high we had climbed. There were still several more hills to go and the headwind made each of them seem twice as steep. The amazing views made up for the pain and of course, every climb has a thrilling descent. On the negative side, the traffic in the afternoon was much heavier, mostly tour buses heading north. We were tired now and anxious to find somewhere to sleep and there seemed to be nowhere. The villages here were poor, few shops and worse, no 7-11's.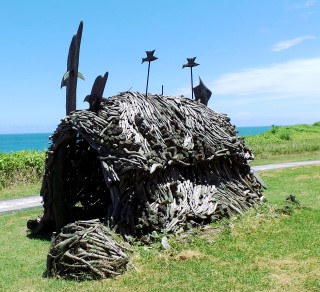 Roadside sculpture, made from driftwood
The Google map showed a bed and breakfast place called 'Cliff House', near the 46km marker and we pinned all our hopes on this. It was a lovely house built right on the sea edge.The building style could be described as eclectic, somewhat Greek style but the interiors had unusual shaped alcoves and angled fittings. Our bedroom had a little balcony overlooking the sea and a huge bathroom with a sunken shower area.
Being a long way from anywhere, they included an evening meal in the price. It was pleasant enough, made mostly from ingredients grown in the garden, but unimaginative, just steamed rice and dishes of fried vegetables.