Camping - Tent

Tents
Our first touring tent was made by a small UK company based in Leeds, Lightwave. The specific model was the t2 trek xt. The current equivalent is the G20 Trek xt.  The current version weighs only 2.89 Kilograms (6.35lbs) complete. It is a tunnel design, two man tent with a spacious awning for such a light package and head room in the awning of 1200mm (47 inches). We used the tent on our Outer Hebrides trip and it stood up to a force 8 gale. It is a great tent for short tours.

For our round the World trip though we decided that, as we would be spending so much time in our tent, we wanted something a little bigger, even if it meant carrying more weight. Specifically we wanted a camping tent that was robust, but high enough to allow us to actually sit on a stool inside the tent. We researched the market and were tempted by the Hilleberg range and the Wechsel range. Both offered tunnel tents with higher profiles, but they attached an equally high profile price.
Finally we alighted upon the good old British standby, Vango.

The Equinox 350 is a roomy three man tent with a very generous head clearance of 1350mm (53 inches) and weighing only 5.3kg (11.66lbs). OK it's nearly double the weight of our last tent, but hey we are getting old and need a bit of comfort at least - even if it does mean harder pedaling.

What has been our experience of it so far? Broadly speaking very good. Despite its height, the internal stays give it good rigidity and it is still quite stable in high winds. There a few issues with it. Firstly due to its larger footprint, it is more difficult to find a good flat pitch and this does not suit it to wild camping very well. It is not very tolerant of being pitched on anything other than flat ground. There is also quite a large gap between the ground the edge of the fly sheet, which can make it very draughty.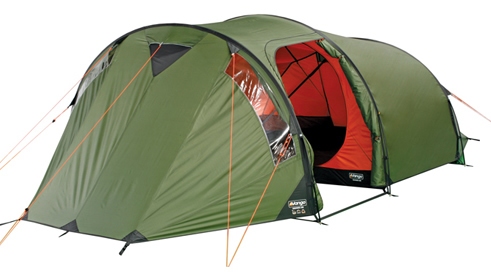 On cold nights it suffers from condensation on the inside of the fly sheet, which drips onto the inner tent. However we have found that this is a common problem with every man made fibre tent we have seen. When there is also dew on the outside, it means you are packing a soaking wet tent. This is no good when you have to pitch later in the day.

The door zips on the fly sheet tend to jam due to the fabric getting caught in the zip, which is an annoying inconvenience. Another annoyance is that when there is water on the outside of the tent and you undo the fly sheet zip water drips onto the ground sheet in the tent awning.

All of these are minor inconveniences and to date we have yet to find a tunnel tent that doesn't suffer the same problems.
The following year, we decided that we could do with a smaller camping tent. This would allow us more flexibility for wild camping and would save us some weight. We researched the market and yet again came back to Vango which offered the best value for money.

We chose the Spirit 300+. It is a tunnel tent and uses poles that are connected and angled slightly at the apex. This means that you still get a generous 110mm head height. Otherwise the construction is similar to the Equinox 350.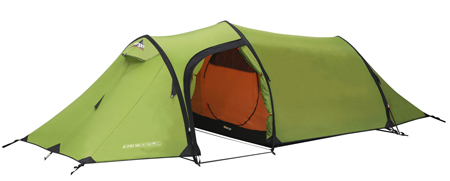 During 2010/2011 we camped in this tent almost everyday for 7 months, and it took everything that we could throw at it. We had a slight problem with the zip pull opening up slightly resulting in the zip not properly meshing coming open. This could be resolved by carefully crimping the puller with a pair of pliers.

As with much of our gear, the effects of UV on the tent were noticeable. Particularly where the poles threaded through. The fabric became thin and worn, resulting in the pole going through the fabric easily. This just required more care. We also broke a pole due to carelessness.

We will be replacing our tent again this year and would like to go for the new Vango Titan 300. This has a lower skirt around the base to stop draughts and has three door entries compared to the one on the Spirit range. However, it is nearly double the price so we may have to stick with the Spirit.
Groundsheet
The ground sheet that Vango sell for the Equinox 350 is very heavy. Almost as much as the tent again, so we looked for an alternative. There appeared to be two suitable ground sheet materials in the blogs that people were talking about. One was Silicon Impregnated Nylon (SilNylon) and the other was a plastic material. SilNylon is nice and flexible, easy to work with and does not make any noise when you move around on it. However the material that we were using was not 100 percent waterproof. The other material however is 100 percent waterproof, very light but also very noisy when you move around on it.

We decided that we could probably put up with the ground sheet not being quite waterproof. We bought a couple of lengths of the material and made our own ground sheet. However, several weeks of camping in wet UK conditions showed us that the ground sheet was not really waterproof enough. Several times we woke up to puddles on the ground sheet. Before we left the UK we looked for an alternative. We found a material in a local army surplus store in Plymouth. It weighs about the same as the SilNylon, but has proved to be 100% waterproof. It is a little more noisy and quite slippery as it has a waxy feel to it. So we bought three lengths and over the winter we will make it up into a ground sheet to fit the tent. We are not sure what the material actually was.

This ground sheet worked well and lasted right through until we reached Tasmania which was again a very wet area. On our first really wet night it was clear that the waterproofing had broken down again. This time we bought a bog standard PVC ground sheet at a local hardware store, cut it to size and it worked fine.

We have come to the conclusion that it is not worth spending a lot of money on special materials, as the wear and tear they suffer causes the waterproofing to breakdown. The best idea is to just buy a cheap PVC replacement when you need one.