Gretna to Liverpool - Day 6 - Wheelton to Liverpool

Distance           80km

Max Elevation    120m

Gretna to Liverpool - Wheelton to Liverpool Ride Profile
Ride Description

As we had no tent to pack and our hosts were off to work, we had an early start. We got back onto our Gretna to Liverpool route and the south Lancashire route 91 which was started hilly but eventually flattened out into the intensive agricultural Lancashire countryside west to Southport. It was warm, sunny and no wind. We cycled passed field after field of vegetables ready to be harvested. First lettuce, then leeks. Cabbage as big as footballs. Spinach, potatoes. In fact we could have put together our whole shopping basket if only we could have carried it all.
We stopped at Mere Brow where our Gretna to Liverpool route turned towards Southport and stopped at a simple roadside shop for bacon butties and coffee.
The route to Southport was flat and unremarkable, alongside the main highway. Southport had little to endear it to us, but we had a lovely ride along the promenade.
Finally the route turned more inland and picked up the old railway track all the way into Liverpool. The worst thing about the route was that there were frequent anti motor bike gates, which were ok for an ordinary bike, but impossible to negotiate when fully loaded without a lot of awkward maneuvering.
At one such gate we met a mountain biker, that looked and spoke a bit like Lister off Red Dwarf, except he was white. He seemed to spend his time hang gliding, or para gliding and used cycling to keep fit for his airborne passion.
At points the track was enclosed on both sides as it went through rocky cuttings with trees overhead and not a soul along the way.
As we came into the outer extremities of Liverpool the Gretna to Liverpool route took us off the railway track and onto the tow path of the Leeds / Liverpool canal, which we followed until suddenly an arrow took us to the left up a steep set of steps onto the road above. They were so steep that we had to demount all our panniers and hand carry them individually up the steps to the road. (What a pain!)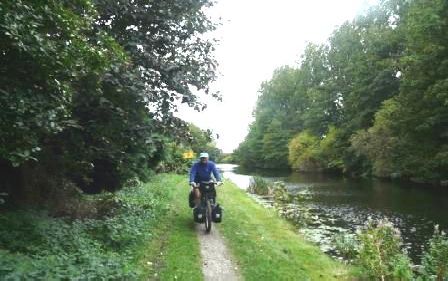 Leeds Liverpool Canal
As we were nearing the point that we needed to cut off the track, we stopped and asked an old Lady where we were. "Its Liverpool!" she said. We elucidated. "But which area of Liverpool?" She replied, quite seriously, "Well, its all Liverpool!". Trying to keep a straight face we sought further clarification explaining that we were looking for Childwall. Continuing on with the sages directions, we found our exit point and completed our journey to our son's house in Wavetree and the end of our Gretna to Liverpool ride. We took time out to visit this vibrant, buzzing city.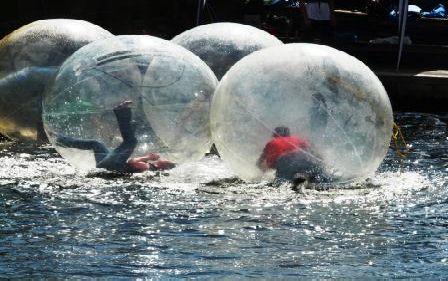 Water Games in Albert Dock Liverpool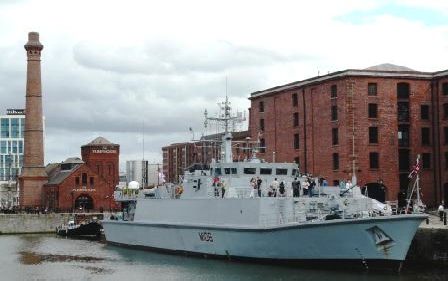 Albert Dock Liverpool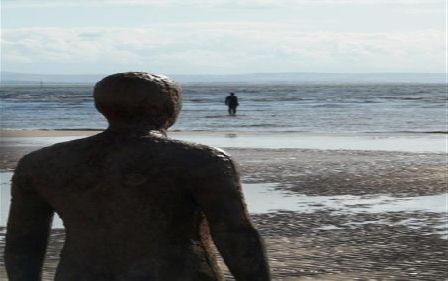 Anthony Gormley - Another Place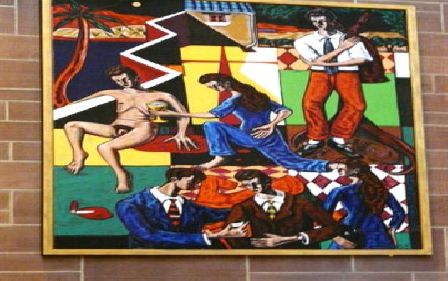 Liverpool Cathedral Art