Vietnam Highlands - Day 8 - Long Thanh to Ho Chi Minh City

Distance            47km

Max Elevation      33m


Vietnam Highlands - Long Thanh to Ho Chi Minh City Ride Profile

Ride Description

Our last day of cycling in Vietnam we headed west from Long Thanh towards the river Dong Nai. We took the old road through  Ben Cam. At first the going was tough as there were a lot of roadworks, rough road surfaces  and  traffic. Once through the town the road was quiet and pleasant, winding over low rolling hills to  Long Tan.

From here, according to the map, the road turned away from the river valley and took a circuitous route before returning north  to the ferry crossing point. The satellite view showed  a  minor track along the river which avoided this detour. Unfortunately, as we rode smugly along the road wondering why it was so quiet, we were confronted by the gates of a large riverside naval base. The two young ratings on guard duty wouldn't let us through so we had to go the long way round.

Arriving at the last ferry of our Vietnam Highlands tour it was distressing to witness yet another RTA with some very inappropriate first aid being administered by the well-meaning bystanders. On the other side of the river the traffic was heavy with lots of container lorries nose to tail along the dual carriageway. The route into Saigon meant taking a left turn through this and then a climb up the bridge over the Saigon River, thankfully on  a separate motorbike lane. From here we followed the same route, to the same hotel, as three weeks previously.
We now had five days to relax in Saigon before our flight on 18th December to Dumaguete in the Philippines to spend Christmas with our son Simon and his wife Emma.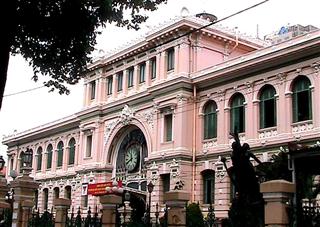 From Saigon we took a flight to Manila in the Philippines and onwards down to Dumaguete on the Philippine island of Negros where you can read about the next stage of our journey cycling around the Visayas.
Or