The tourist information about El Calafate suggests that there are endless things to do here. In fact there is very little to do in the town itself. All of the suggested activities are very distant and require transport and organisation that can only be achieved by a tour company, meaning VERY costly.
Our hearts were set on visiting the Perito Moreno Glacier and the key viewpoint of cycling the Glaciares about 75km south of the town so this was the only trip we did. It was spectacular, well worth the money and the weather was brilliant. We took hundreds of photos!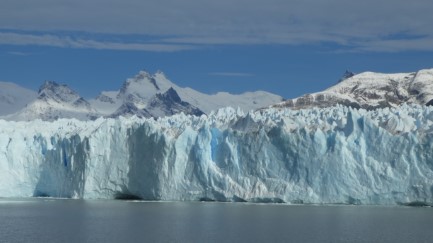 Perito Moreno Glacier
After three days we moved to a small B and B booked through Booking.com. It had the best reviews of any accommodation in town but we were not impressed. It was run down and scruffy and on two morning no-one appeared to prepare breakfast so we had to raid the kitchen fridges to find food and fix it ourselves!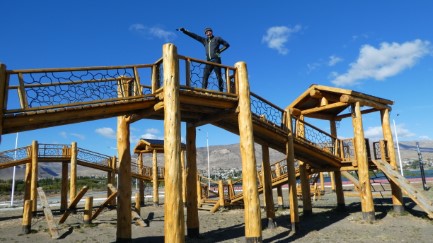 Grown-ups at play
One of the main things that was different in this town was that the visitors were older, around our age. We sorely missed the company of the young crowd of optimistic backpackers who we had made friends with while traveling south.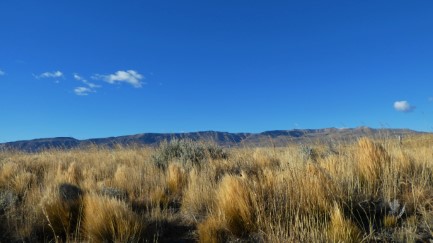 Typical Patagonia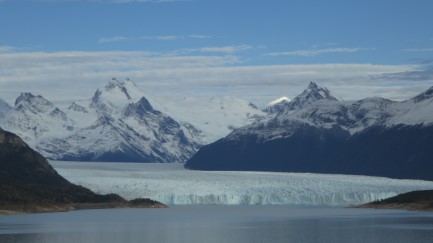 Cycling the Glaciares National Park
The rest of the time we were pretty bored and struggled to entertain ourselves without drinking the town dry.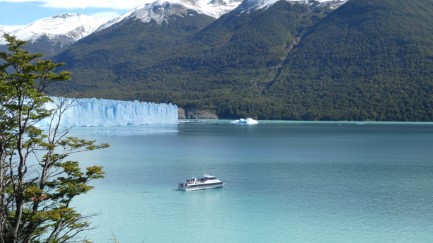 Glacial lake
We did do a lot of walking around the lake shore, played on the adventure playground and spent a couple of hours in the small town museum.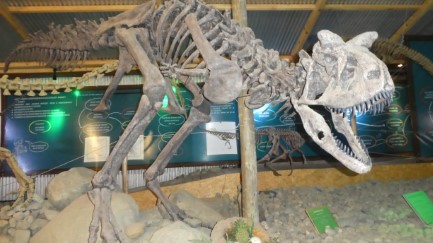 Museum dinosaur
Waiting for us at our B and B was the box full of packing materials that we had posted from Esquel weeks ago. So now the bikes had to be dismantled and packed ready for the flight back to Buenos Aries.
El Chalten from the lagoo