Bangkok to Cambodia - Day 5 - Leam Mae Phim to Chanthaburi
Distance           96km

Max Elevation     55m


Bangkok to Cambodia - Day 5 - Leam Mae Phim to Chanthaburi Ride Profile

Ride Description

For this level of heat and humidity we think 60kms a day is ideal but, except for a few isolated and expensive resorts, there was no accommodation until Chanthaburi. Our Bangkok to Cambodia map showed a minor, probably unsurfaced road which continued near to the coast. It turned out to be a wide, smoothly surfaced road with a separate bicycle lane although there was hardly any traffic.

It was very hot but the flat road meant we could keep up a reasonable speed. Towards Chanthaburi we climbed gently away from the coast  through forested hills. On the outskirts of the city we stopped to shop at a big 'Tesco Lotus' supermarket, a strange mix of familiar, Tesco brand products and local favourites.
Chanthaburi is famous for its gem-stone trade and the small shops along the street were full of groups of men doing serious business. We booked into the Kasemsarn Hotel, just on the edge of the gem market,  and set off to explore. The streets were decorated with hundreds of Chinese lanterns and lights and a huge dragon above the main street.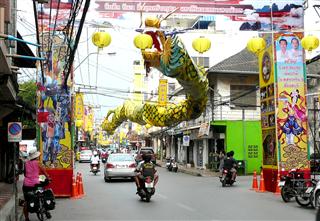 There was a big food market, packed with locals, buying a vast variety of amazingly colourful and unrecognisable delicacies.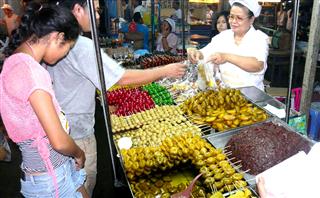 There seemed to be no bars open in the main town so, in search of a beer, we went down to the Chanthaboon Waterfront. This is a street of historic wooden Chinese style shop houses along the river bank. There was an interesting looking bar with no customers but several staff making food so we sat down and ordered two large beers. As we drank the wonderful smell of the cooking food reminded us that we were famished so we asked if we could see the menu.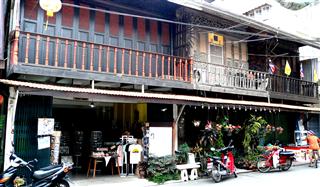 Instead we were invited to sit with the lady bar owner and her staff and share the vegetarian meal which they had prepared. There were delicious fish dishes, spicy vegetables and an amazing egg custard. She explained that this was the beginning of a 10 day religious festival during which no meat is eaten. All of the food we had seen on the food market was vegetarian also.
After the meal she would only let us pay for the drinks and then took us for a walk around the night market next to the temple. We sampled a few of the traditional treats such as small, fried, sweetened potato balls and yellow bean sweets shaped  like fruits and finished the evening with a cocktail in a riverside bar owned by a friend of hers.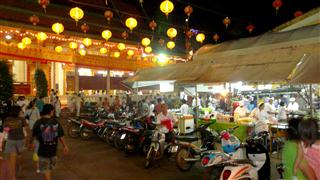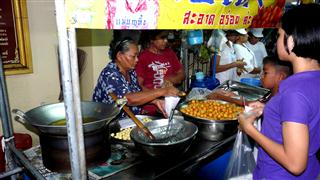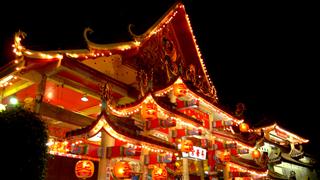 Chanthaburi - Day off
Because we had arrived so late, we hadn't had time to explore and take photos so decided to take a day off fromour Bangkok to Cambodia ride. Walking back along the waterfront and into the temple area we realised that a big procession was imminent. The small square was crowded with men and women dressed all in white we imagine to signify their meat-free purity. In the opposite corner were the younger men, dressed in red, who would be carrying the dragon.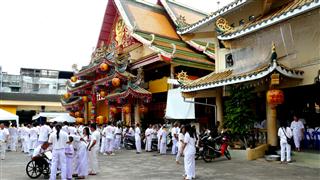 The parade set off from the temple with banging drums, clashing cymbals, beating sticks and firecrackers.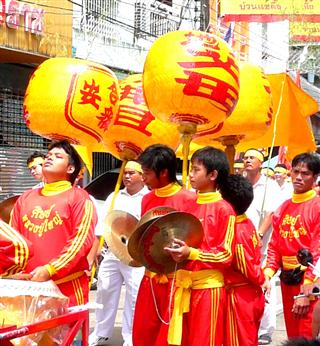 The dragon rippled and curled at the front.......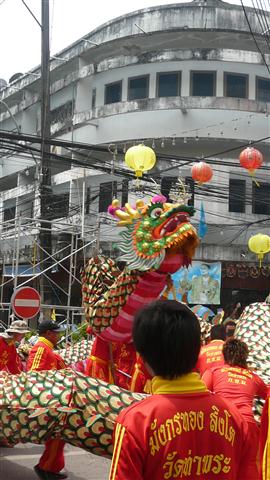 ...... followed by the two lions,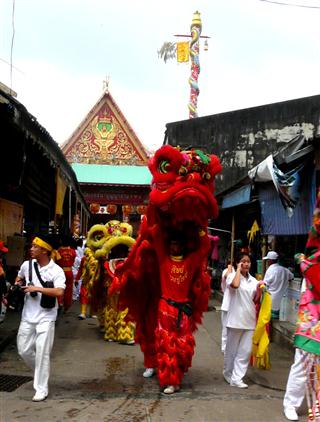 ...a group of colourfully dressed teenagers....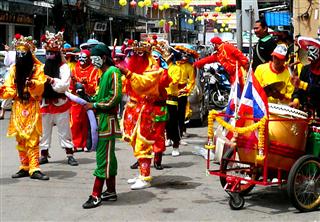 and then flag bearers and flower girls.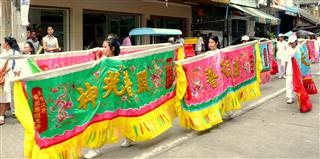 The police were having a field day with at least six of them at the crossroads, directing the traffic with lots of whistle blowing and hand waving, but each of them doing things slightly differently. One would be waving traffic on while another was signalling it to stop. The traffic meanwhile did exactly as it pleased.
We followed the flow for a while, enjoying the spectacle and the noise, before returning to our sight seeing. A heavy downpour sent us scurrying into one of the waterfront food stalls for lunch. As we emerged from there we were passed by the procession again, by now considerably more subdued and much wetter.