Guangxi - Day 4 -Moon Hill Village to Yangshuo

Distance             38km

Max Elevation      239m


Guangxi - Moon Hill Village to Yangshuo Ride Profile

Ride Description

The morning dawned bright and sunny. Steve was still a bit jaded. Karen decided that rather than just cycle 9km up the busy main road to Yangshou we could go across country to the Li river valley and follow that north to Yangshou. That would sort Steve out.

With only the previous day's "tourist map" to work from and the hotel receptionist's warning of "they've built a new road" but not the expertise of English to explain how this would affect us, we set off.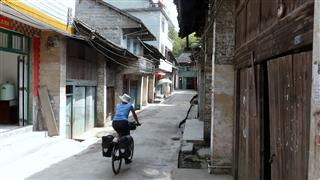 The first section was easy along a narrow unsurfaced lane through the typical Yangshou countryside. We eventually came in sight of the new motorway. There was a choice of either going under it through a small underpass or forking left towards a little village. We took the left fork and the next 5kms rode along a single width track through little villages, around fields and orchards, weaving between the karst rocks and crossing under the motorway a couple of times.

The path ended at a smooth concrete road which again took a circuitous route through the fields and fish ponds, resulting in us loosing all sense of direction. The sat nav didn't help much because here in Guangxi there is quite a significant south west offset. At last there was a T junction with a signpost (in Chinese of course) and by some miracle the symbols matched those of the village we were trying to get to.

After a bit of a climb and a long downhill we arrived at Puyi, formally an end of the road village on the banks of the River Li. No more though because they have just replaced the bamboo raft ferry with a brand new concrete bridge. The bridge is complete but the road has yet to be surfaced, with huge mounds of gravel and sand and mud. As we watched, a small three wheeled scooter type van drove over and tilted so alarmingly from side to side that we were sure it would overturn. The stalwart Guangxi driver knew what he was doing and arrived safely.

We rode through the old village on the narrow "main street" . There were typical Guangxi shops and houses lining both sides with fold back wooden doors at street level and small balconies above. As we rode past we caught glimpses of life through the open doors. Small shops selling essentials, families dining, three old ladies playing cards and a carpenter working his wood.
On the river shore a family were mending their boat, using traditional methods and the woman had the job of sawing the wood planks.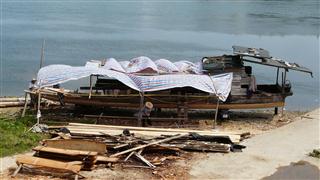 It wasn't easy to find our route out of the village and Steve announced that there was no way he could ride back up the hill that we had just descended as his legs were too shaky. Then Karen spotted a narrow alleyway between two houses and an old lady in a field assured us we were on the right road.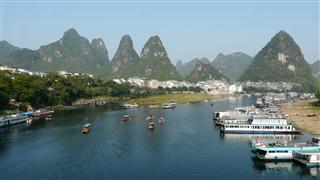 Again it was a rough unsurfaced farm track winding through the hills, passing little hamlets with happy smiling people, strutting cockerels, ducklings sleeping in the shade and even friendly dogs. In one village it seemed like the whole male population were working together constructing a house. They were all so busy, mixing cement, laying bricks, moving gravel but happily chatting and laughing and greeting us.
Navigation wasn't always easy and we took a couple of wrong turns in the villages. The lane now had a smooth concrete surface and there were a few tourists cycling on rented bikes so we knew we were on the right road. Steve was very pale by now but there was only one bit of hill and suddenly we were into the melee of Yangshou. Buses full of tourists, the river packed with boats, touts at every turn trying to sell bike hire, pictures and boat trips. On the river the "bamboo" rafts were instead made from lengths of blue water pipe. It was all a bit of a shock after our peaceful day.
We had decided to try the River View Hotel recommended in the Lonely Planet but the tiny town map of Yangshou was too confusing to make sense of and it took us a full circuit of town to work out where we needed to go. Once we found it we got a room with a huge balcony overlooking the river.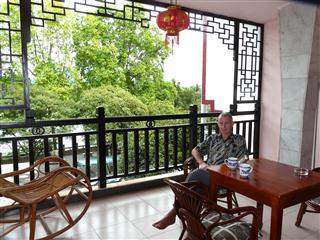 Sitting out on the balcony we noticed a man on a recumbent bicycle on the pavement opposite. Steve had recovered enough by now to go out to chat and have a go on the imaginatively modified bike, complete with wing mirrors, umbrellas, headlight and boom box sound system.